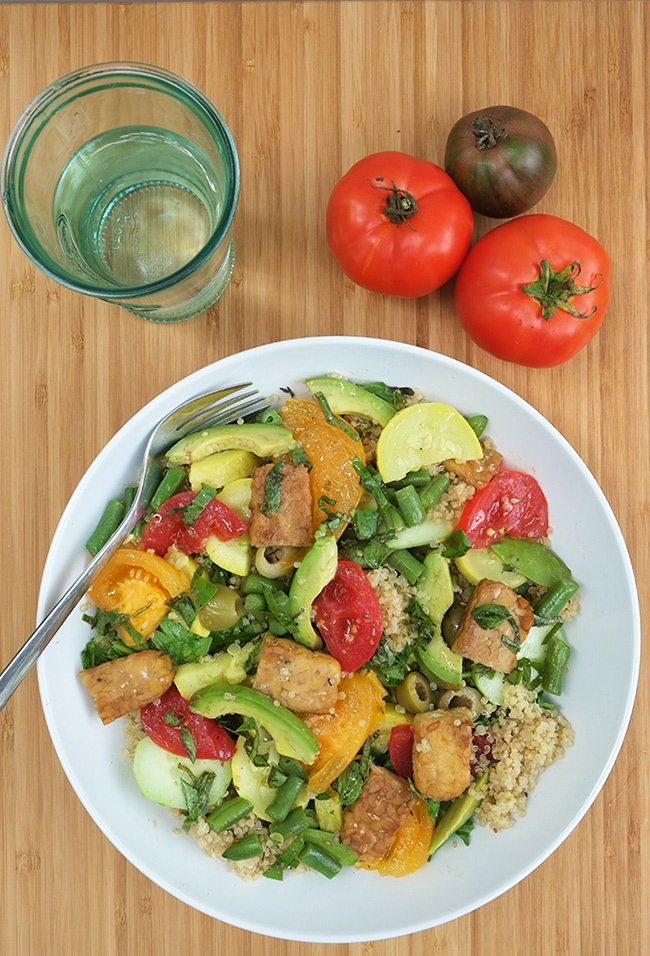 With summer produce in full swing I wanted to make something that highlighted all of the fresh vegetables growing in gardens and being sold at farmers market. I decided to create what I am calling a Summer Harvest Bowl. There is something really satisfying and nourishing about eating a meal from a bowl. I was also inspired by Sarah from My New Roots and her abundance bowls. Most of the time when I cook, I pick simple recipes and simple ingredients. I don't have a lot of time to look up recipes or bring together many different ingredients, so this is a typical meal I might make. I created this dish from ingredients I already had in my kitchen, so I encourage you to combine vegetables, toppings and a base grain to your liking.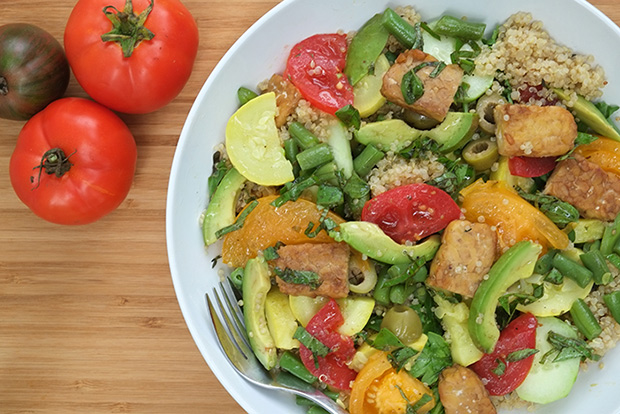 Ingredients
Serves 2 people
1 cup quinoa (1.5 cups water)
2 summer squashes
1 cup of chopped green beans
Big handful of arugula
1 cucumber
Variety of  tomatoes
10 0lives
1/2 an avocado sliced
1/2 block of tempeh
1 tablespoon tamari
1 tablespoon coconut oil
Dressing:
2 tablespoons olive oil
1 tablespoon lemon
Fresh herbs such as: basil, oregano, thyme
1/4 teaspoon of salt
Pepper
Instructions
1. Make quinoa. I like to toast the quinoa with fresh herbs before adding water. To toast, add quinoa and herbs to a pan on medium heat. Stir occasionally, once the quinoa is slightly tan, or popping, add water. Be careful with this step, the quinoa will be hot and sputters out of the pan when water is added. Add the water slowly.
2. Marinate the tempeh in some tamari for a few minutes. Add to hot pan with coconut oil. Once one side is brown flip over to the other side.
3. Gather your vegetables, cut them up and saute in coconut oil, some salt and any cut up herbs.
4. Cut up the toppings: olives, cucumber, arugula, tomatoes. Other ideas: walnuts, goat cheese, sprouts, raisins, pine nuts, spinach, roasted garlic.
5. Make dressing: Combine olive oil, lemon juice, fresh herbs, salt and pepper.
6. Arrange in bowl (this is the hard part for me!) or just pile everything together. Pour dressing on top.
Enjoy!