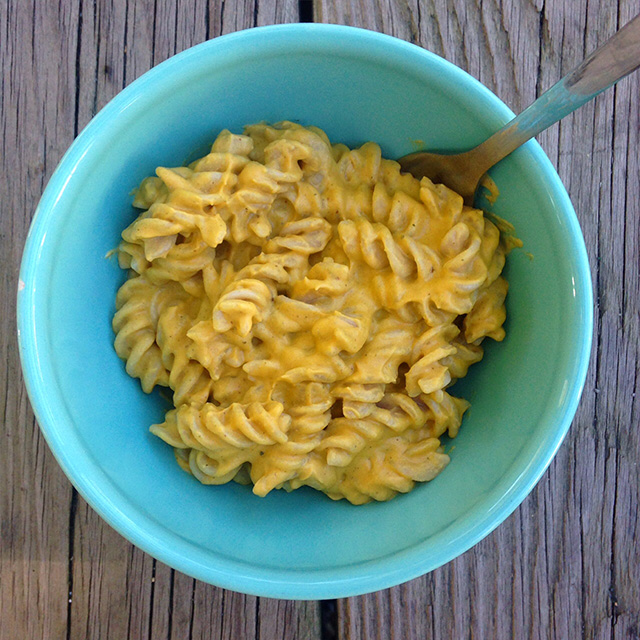 Disclaimer, I LOVE cheese. I dream of going to France or Italy and eating slice after slice of cheese. The problem is I notice my menstrual cramps get worse when I eat a lot of dairy, so I've been cutting back on dairy over the years. It's sad, but not when I make recipes like this. I don't miss the cheese in this vegan mac and cheese. This "cheese" is creamy, smooth and nutty.
If you are skeptical, at least give it a try! It is really easy to make, it just takes a few hours to soak the nuts. This is an important step because it makes the nuts smooth and also makes them easier to digest. If you want gluten free pasta, I highly recommend the Jovial brand. It is 100% organic brown rice pasta from Italy. It's my favorite gluten free pasta.
Vegan Mac and Cheese
2015-10-17 11:34:33
Serves 6
Creamy, delicious vegan mac and cheese!
Ingredients
3/4 cup cashews
1/4 cup macadamia nuts
1/2 potato
1 carrot
1 zucchini
1/4 of an onion
1 garlic clove
1 cup of water (or vegetable broth)
2 T nutritional yeast
1 T mustard
1 T of herbs like rosemary, basil, and/or oregano.
Salt to taste
Pepper
Instructions
Soak nuts for six hours (if in a rush, less is okay)
Chop up vegetables and put into saucepan
Boil in water or vegetable broth until all vegetables are soft. Keep broth.
Drain nuts and add to blender
Add cooked vegetables, broth and the rest of the ingredients into blender
Blend until smooth
If needed add more water, it can get sticky
Taste and add salt, mustard, or nutritional yeast if you want more flavor.
Notes
This amount was enough for my husband and I to enjoy for two meals and there is still some left! It's also makes a really great dip for raw veggies or chips.
Optional flavors
Add cayenne or sriracha for a kick!
Add butternut squash to the veggies and get a creamy fall version.
Serve with green peas and basil.
Annalisa Marie http://annalisamarie.com/