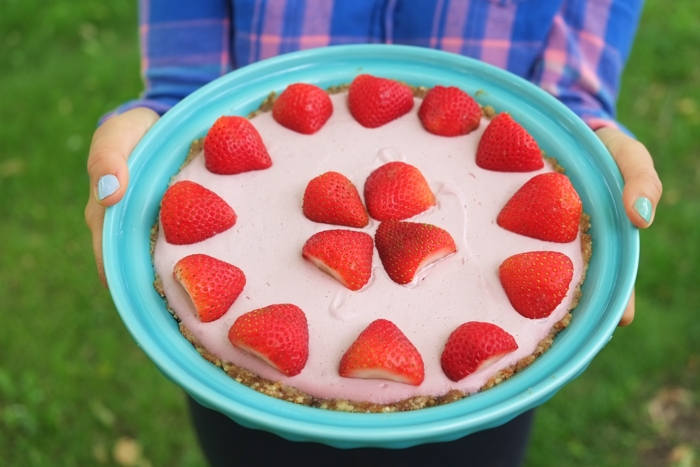 Eating this raw berry cheesecake feels like a celebration of life. It's nourishing, creamy, sweet and delicious. The best thing is it's free of gluten, dairy and processed sugar, but I promise you, your family or friends will never know! It's that good. If you end up just eating it all yourself, I will totally understand.
Raw Berry Cheesecake Recipe
2015-09-25 09:53:21
Crust
1 cup pitted dates
1/4 raisins
1/2 cup walnuts
1/2 cup almonds
1/4 coconut shreds
Filling
2 cups cashews soaked (for at least 6 hours)
One lemon
Two cups of strawberries (or berries of your choice)
1 tsp vanilla extract
1/4 cup sweetener of your choice. I used maple syrup (not raw), you can use anything you like.
1/2 cup melted coconut oil
Instructions
To make crust combine pitted dates, raisins, walnuts, almonds and coconut shreds in food processor until it forms a ball.
Oil pan with coconut oil and press the crust evenly in the pan. Refrigerate.
To make filling, drain and blend cashews with lemon juice, sweetener, vanilla and coconut oil.
Add strawberries (leave some for decoration)
Taste the filling to see if you want to add anything (such as more lemon or sweetener)
Pour the filling into the crust and put in freezer. Two hours before serving take out of freezer so it can defrost. Add berries when serving.
Annalisa Marie http://annalisamarie.com/