I absolutely love Thai food, so when we decided to visit Thailand I knew we had to do at least one cooking class! We decided on Asia Scenic's cooking class and had a great time! We spent the day cooking, learning and eating and left with a cookbook and a full tummy (possibly a little too full, it was hard to stop eating!). We made five courses in total and had a choice of about three to five dishes per course. I want to share with you one of my favorite Thai dishes that I made at the cooking class, Pad Thai! Throw your hands up in the air if you love Pad Thai as well! I love the simplicity of the dish with the subtle flavors of lime and sauce. My only complaint is this dish has very little vegetables, so when I re-create this at home I will add for example: broccoli, more kale and some carrots.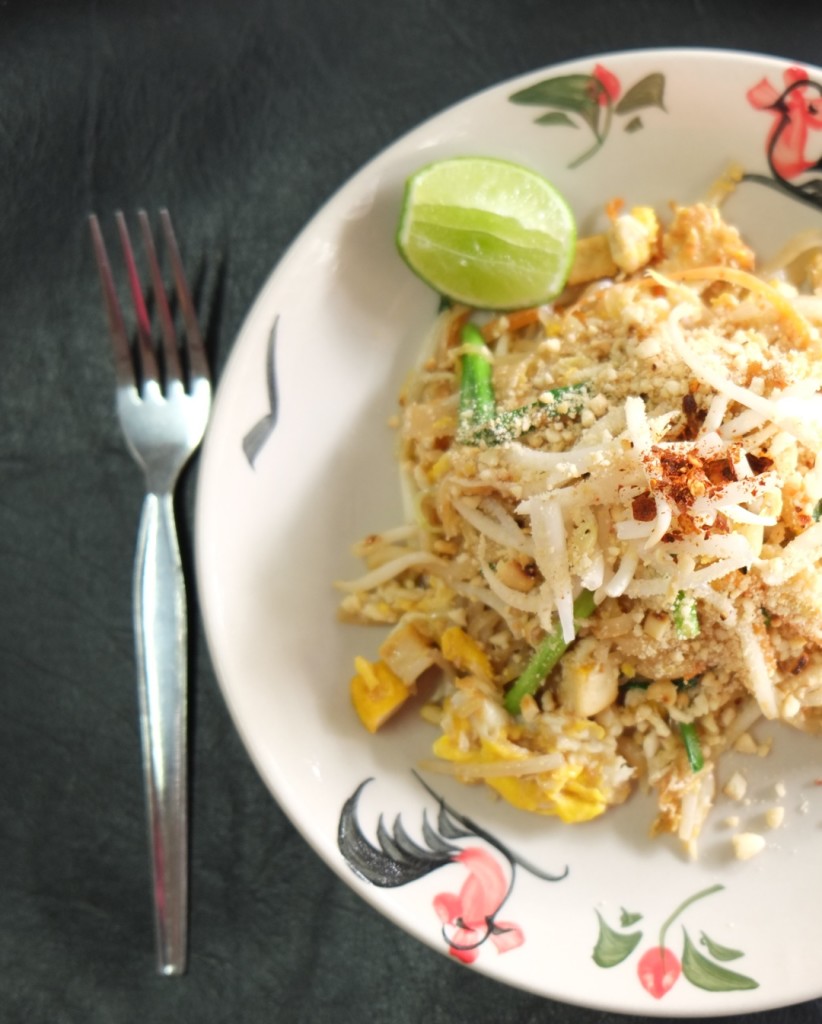 I also love that pad thai can be vegetarian or not, depending on your preference. I will include both options. This dish cooks very quickly so you have to be alert!
Recipe thanks to Asia Scenic.
Pad Thai
Preparation
Soak dry noodles in water for 10 minutes.
Ingredients
2 Tablespoons cooking oil
1 teaspoon sugar
2 teaspoon fish sauce (soy sauce for vegetarians)
3 teaspoons oyster sauce (mushroom sauce for vegetarians)
2-3 pieces of garlic chopped
1 piece tofu cut in small pieces
1 stalk chive cut into 1 inch lengths
100 grams of bean sprouts (a handful)
50 grams chopped chicken
200 grams rice noodles (about 3/4 cup I would say)
1 egg (optional)
Instructions:
1. Combine sugar, fish sauce and oyster sauce in a small bowl.
1. Fry garlic in hot oil over low heat until fragrant. Add minced chicken and tofu. Cook for a few minutes.
2. Add the egg and sauce. Let egg cook and then stir everything together.
3. Push the mixture to the side away from the heat and add the noodles. Drizzle it with a little water, stirring the noodles for a minute or two.
4. Bring everything back to the heat. Add bean sprouts, chives and any other vegetables and cook for one minutes.
5. Serve with ground up peanuts, chili powder and lime.
Here is another way to serve Pad Thai with the egg on top from the restuarant Pun Pun in Chiang Mai