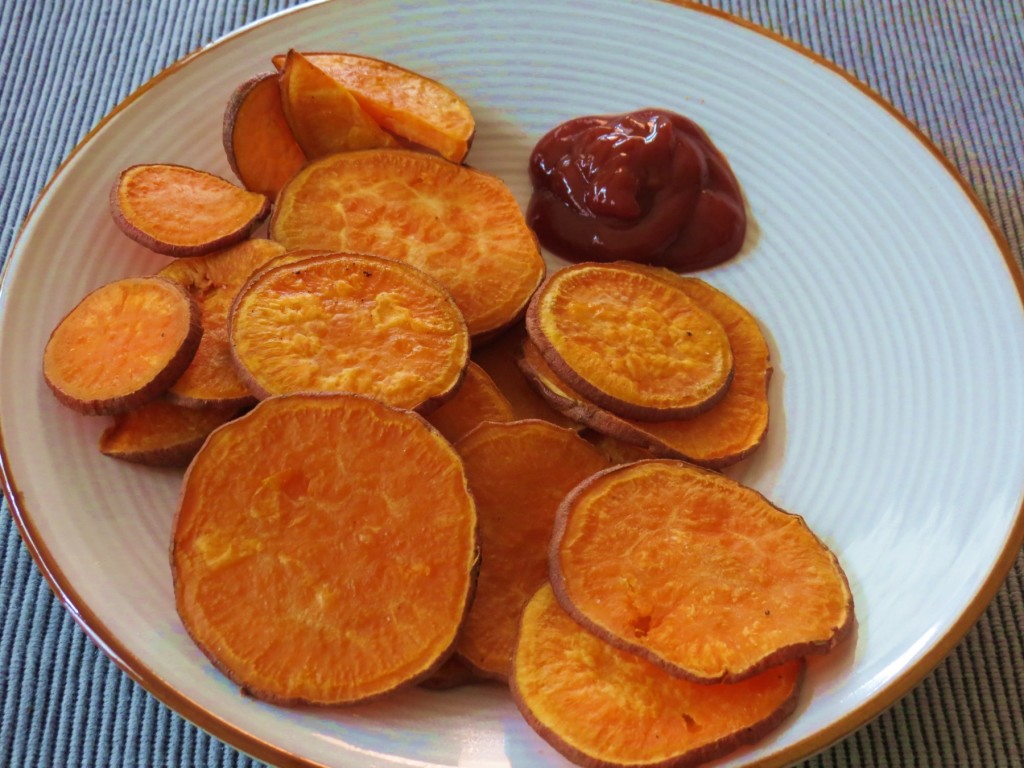 This recipe is so simple there is no excuse not to make it, and it's a perfect fall/winter side dish. When the weather is cool outside, I love turning the oven on and roasting vegetables. It makes my home cozy and fills it with such a delicious aroma. My top contenders for roasting are: cauliflower, carrots, parsnips and, of course, sweet potatoes. Continue reading to see recipe.
Sweet Potato Chips
Serves two
1 large sweet potato
1 Tablespoon of  grapeseed oil (or any other high heat oil)
Salt
1. Preheat oven to 350F
2. Thinly slice the sweet potatoes (keep the skin on for more fiber and nutrients)
3. Drizzle with oil, sprinkle salt on top, and toss chips to evenly coat them
4. Place chips on baking tray. Try not to overlap the chips.
4. Bake in oven for one hour. After 30 minutes flip the chips.
To figure out if they are ready to eat, test one and see if you like the texture. I recommend not over- baking them; I like them a little soft.
Benefits of Sweet Potatoes
Sweet potatoes should not be mistaken for regular potatoes. While they are very distant relatives, the sweet potato far surpasses the potato in nutritional value. Sweet potatoes are not nightshade vegetables* and they are full of vitamin A, antioxidants, blood sugar reducing properties, and the list goes on and on. Check out  this website for an entire article on the benefits of sweet potatoes.
* Nightshade vegetables such as potatoes, tomatoes, eggplant and peppers can cause inflammation in the body. It's best to eat them in moderation or reduce, depending on your physiology.