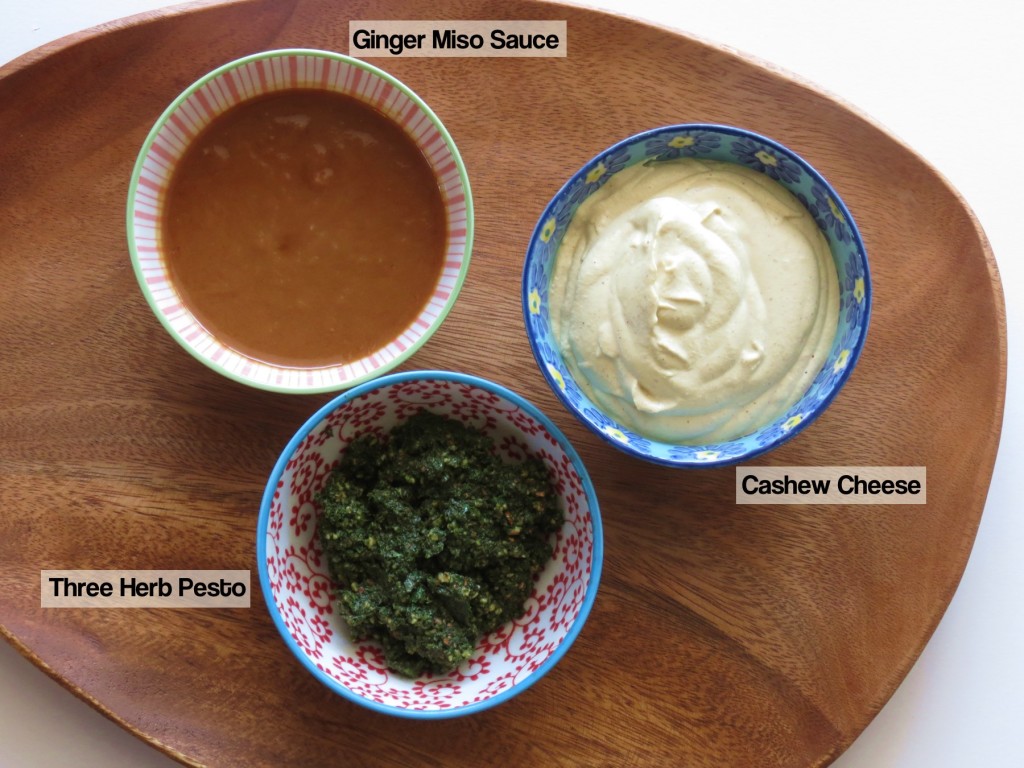 Today I present to you three very different sauces, all of them wonderful additions to a meal. Each one has a unique taste, is full of nutrients and brings your meal to another level. I eat these sauces regularly and love that they are all dairy free but not flavor free! After each recipe, I list some ideas on how to use the sauce. Enjoy!
Continue reading for the recipes!
Three Herb Pesto Sauce
1/2 cup basil
1/2 cup cilantro
1/2 cup parsley
1/4 cup nuts (almonds, walnuts or pine nuts work well)
2 tablespoons olive oil
1/8 teaspoon salt (add more after tasting)
Put together in food processor and process until everything is broken up nicely.
Uses:
Pesto is amazing on pasta, in sandwiches or with grilled vegetables.
Miso Ginger Sauce
2 tablespoons miso
2 tablespoons lime juice
4 inches of peeled fresh ginger root
2 tablespoons sweetener (maple syrup or honey work well).
Blend until smooth. Add more sweetener if needed.
Uses:
This is great for on top of buckwheat noodles, Asian stir fried vegetables, quinoa and any other grain.
Cashew "Cheese" Sauce
1 1/2 cups cashews (soaked 6 or more hours with the water drained)
2 tablespoons nutritional yeast
1 1/2 tablespoons mustard
1 tablespoon lemon juice
pinch of cayenne and paprika
1/4 teaspoon of salt
1/2 cup of water
Blend all ingredients together until creamy and smooth. A Vitamix is perfect for this, but any high speed blender will do.
Best With:
I love this cashew sauce with pasta for a mac and cheese inspired dish.  It's a great substitute for cheese, and is super creamy and nutty… It's also a great dipping sauce for vegetables or on tacos or cornmeal pizza (recipe is coming soon for this).