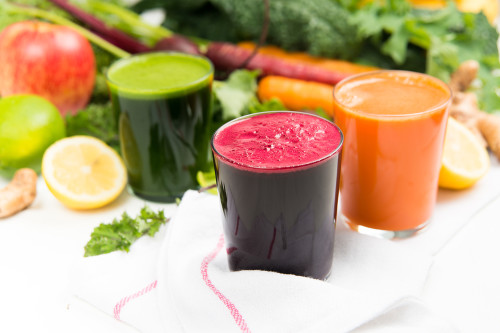 Image found here.
I have never done a cleanse before, not one on my own with freshly squeezed juices, so I thought I would document it. I had been feeling sluggish, dull and headachy for the past few days, so I figured this would be a perfect time to do a cleanse. The spring is great time because the body might still have some lethargy from the winter months and could use a nice cleaning as nature is waking up and getting cleansed by the rain. Leafy greens are ideal to eat – either in juice or cooked- because they are growing naturally right now and help suppor the liver and gallbladder in detoxifying. Bitter greens in particular, like dandelion arugula and kale, help with digestion, normalize blood sugar and so much more.
Day One- 7PM
I have almost survived the day, but the evening is always the hardest for me! This is when I really count on food. Even when I have a full meal, I tend to reach towards snacks or dessert to satisfy a craving that can't be satisfied. I think a lot of it has to do with television. If we decide to watch a movie or tv show in the evening after dinner, or during dinner, I have this strong need to eat. For me watching tv=eating food, whether it be popcorn, chips, or something else. This is one habit that I would really like to break, so fasting could really knock it out.
The day as gone most well so far. I have had moments of panic where I want to eat or am sad I can't have dinner. My will has been strong, so when I started to get hungry I just went to the juicer and just whipped up a glass or juice. It's convenient that I work at home, so I am able to get freshly squeezed juice when I want.
Today I consumed:
9:30am- Orange, carrot, apple, fresh turmeric
-Rooibos Tea
11:30- Basically the whole fridge: Dandelion, kale, cucumber, celery, lemon,
12:30- Same as above but 2 apples
4:00- the rest of the juice above
6:30- Cucumber, lime, celery, parsley
Not enough water, I need to remember juice doesn't replace water!
How I feel:
Up and down. I had a few spurts of energy, taught one hour of gentle yoga and went for a 20 min walk. Right now (at 7pm) I have a headache (maybe from not enough water) and I just want to curl up and watch some TV (which I think I will do). But most of the day I felt clearer than I had in the past week and not hungry (because I drank juice when I wanted it).
One reason I haven't cleansed before is because it's important to transition in and out of a cleanse. I never seem to do the transition in part (it's best to cut out gluten, sugar, dairy, caffeine, etc) so never end up doing the cleanse. The past few months I've slowly been cutting out gluten, sugar, etc, so I decided to just start the cleanse and stop procrastinating! I think I will do three days of juice and three days of juice, smoothies and soups, and then two days of very light food, to equal a 7 day cleanse!